Ponta Delgada Airport Departures (PDL)
Not all flights may be showing. If not available use search above to find your flight by airline, airport or flight number.
Destination
Airline
Flight no.
Scheduled
Est./Actual
Status
Funchal (FNC)
Azores Airlines
S4162 expand_more(2)
08:40
Scheduled
Funchal (FNC)
Binter Canarias
NT7162
08:40
Scheduled
Funchal (FNC)
TAP Air Portugal
TP6662
08:40
Scheduled
Lisbon (LIS)
Azores Airlines
S4128 expand_more(1)
09:50
Scheduled
Lisbon (LIS)
TAP Air Portugal
TP6626
09:50
Scheduled
No flight departures were found at Ponta Delgada Airport.

Flight Departures at Ponta Delgada Airport
When it is time to depart from Ponta Delgada Airport there are a few questions the traveler might want answers too. We have listed some of these answers in this article as they are known at the time of writing. 
Airport Opening Hours at Ponta Delgada Airport
The airport opens two hours before the first commercial flight or at 05.00, depending on which comes first. It closes after the last commercial flight, or at 00.00, depending on which comes last. It is not allowed to stay overnight at the airport for security reasons.
Transfer at Ponta Delgada Airport
Rental Cars – The rental car companies at Ponta Delgada airport are located on landside. Please follow instructions from your rental car company when returning your rented vehicle.
Shuttles – ANC Aerobus transfers to and from the airport and some of the main points in Ponta Delgada city. They operate on a daily bases from 07.00 to 00.00. The bus route stops at 21 different locations in the city and it runs to and from the airport every 40 minutes. The bus stop at Ponta Delgada airport is situated right outside the terminal. Tickets are purchased on the bus and cost 4€ for a single adult.
Taxis – A taxi ride from central Ponta Delgada city takes around 10 minutes and costs around 15€ depending on your exact starting point. Taxis will drop travelers off right outside the terminal entrance.
Parking at Ponta Delgada Airport
There are two parking lots at Ponta Delgada airport, one short-stay and one long-stay. It is allowed to stay directly outside the terminal for dropping off and picking up passengers, but only for up to 10 minutes twice in 24 hours. 
WiFi at PDL Airport
Free and unlimited WiFi is available at PDL. Turn on the WiFi on your device, connect to the network called "_VINCI Airports WiFi", accept the terms and conditions and open up a browser.
Smoking at PDL Airport
There is no smoking allowed once you enter the airport until you are at the other end of your flight and the allowed smoking area there. Smoking at PDL is only allowed outside on landside.
ATM, bank services and currency exchange at PDL Airport
These services can be found before security on landside, in the departures area of the airport.
Reduced mobility and disability services at PDL Airport
MyWay is a service for travelers with disability or reduced mobility. It includes skilled professionals as well as mechanical mobility facilitators to assist the traveler during their time at the airport. 
The service has to be requested through the airline or travel agency at least 48 hours before the time of departure of the flight. 
Food and beverages at PDL Airport
There are a couple of places to eat and drink before going through security. Once through to the airside there is one place in the Non-Schengen area and two in the Schengen area. 
Shops at Ponta Delgada Airport
Once through the security control there is a Duty Free Store that offers perfumes, beverages, tobacco, chocolates and candies, handicrafts and gifts, technology, fashion and accessories, watches and jewelry and more.
There are also a few shops located on landside before security and a few more shops on airside.
Transfer to Ponta Delgada City from other Azores islands
There are two options for those who want to transfer from one of the other islands.
Plane – All of the Azores islands have an airport or an airfield, but there might not be direct flights to Ponta Delgada. Schedules tend to be changed fairly often so it is important to make sure there is room for flexibility in the itinerary.
Ferry – While all the islands have a port there are not direct routes between all of the islands, meaning that one can travel to Ponta Delgada from some of the other Azores islands, but not all, and more so during the summer than the winter. Plan for flexibility as there may be cancellations, bad weather or delays.
Was your flight delayed or cancelled?
You may be eligible to receive up to 600 EUR compensation per person in your party..
Claim Now!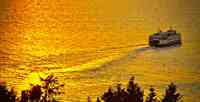 Travel options between the Azores Islands