PONTA DELGADA AIRPORT (PDL) INFORMATION
Origin
Airline
Flight no.
Scheduled
Est./Actual
Status
No flight arrivals were found at Ponta Delgada Airport.
Destination
Airline
Flight no.
Scheduled
Est./Actual
Status
No flight departures were found at Ponta Delgada Airport.
Car Hire at Ponta Delgada Airport
UNBEATABLE VALUE CAR RENTAL
Free Amendments | Free Cancellations | No Card Fees




Ponta Delgada Airport - All Information on Ponta Delgada-João Paulo II Airport (PDL) Ponta Delgada Airport
João Paulo II Airport, 9500-749 Ponta Delgada, Portugal
phone +351 296 205 400
phone+351 296 205 400 (Lost + Found)
emailpontadelgada.airport@ana.pt
emailpontadelgada.airport@ana.pt (Lost+Found)
Facts and History about Ponta Delgada Airport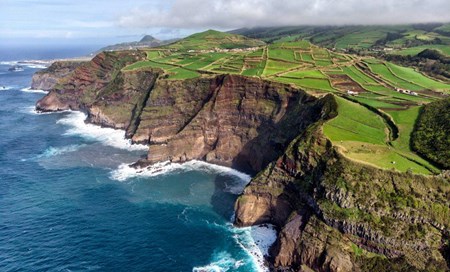 Ponta Delgada - João Paulo II Airport is located on the Azorean island of São Miguel, only a few kilometres from the main city of Ponta Delgada.
The Azores is a Portuguese archipelago situated roughly 1,600 km/1,000 miles west of Portugal in the North Atlantic Ocean. It includes 9 islands divided into 3 island groups simply called West, Central and East island groups. São Miguel is the largest of the islands and is located in the East group together with Santa Maria. The West group consists of the two smaller islands of Flores and Corvo, and the Central island group consists of the remaining 5 islands, Graciosa, São Jorge, Pico, Faial and Terceira.
All the islands have an airport or an airfield, and Ponta Delgada is the largest of the airports.
The airport is named after Pope John Paul II and it is an international airport. It is the fifth largest infrastructure managed by ANA Aeroportos de Portugal.
The SATA Group of airlines, including Azores Airlines, use the airport as their major hub, and since April 2015 it also functions as a base for Ryanair.
The construction of the airport was planned in 1963 and it was inaugurated on August 24, 1969. The terminal, however, was not inaugurated until May of 1995, which was also when the airport was honoured with the name of the Pope due to his visit in 1991.
Ponta Delgada Airport was initially used to serve inter-island connections and occasional connections with the continent, and therefore regular flights to Lisbon did not begin until two years later in 1971.
At the time of the airport first opening in 1969 the runway, transferred from Santana, was 1,800 m/5,900 ft long and it was referred to as the Aeroporto de Nordela due to its north position. The current runway measures 2,497 m/8,192 ft and is made of asphalt and runs alongside the coastline.
Flights to and from Ponta Delgada Airport include Boston, Toronto-Pearson, Gran Canaria as well as London and more for all year round flights, and Amsterdam, Geneva and Brussels and more for seasonal flights.
The airport saw 1,904,310 travelers and 22,685 aircraft movements in 2018.
PDL is open to the public between the hours of 05.00 and 00.00, or two hours before the first commercial flight and until after the last commercial flight if those don't fit within the regular opening hours.
It is not allowed to stay overnight at the airport due to security reasons and simply because the airport is closed.
Arrivals, Departures and Airlines at Ponta Delgada Airport
Hotels near Ponta Delgada Airport
There are a number of hotels to suit all budgets and requirements at or near Ponta Delgada Airport.
WiFi at Ponta Delgada Airport
The airport offers free and unlimited WiFi access to all visitors. After turning on the WiFi on the chosen device, choose to connect to the network named "_VINCI Airports WiFi". Accept the Terms and Conditions, open up the browser of choice and surf away.
Smoking at Ponta Delgada Airport
There is no smoking inside the airport facilities or on airside, which means that departing travelers may want to smoke before entering the terminal and going through security and arriving travelers have to wait until they have collected their entire luggage and are outside on landside.
ATM, bank services and currency exchange at Ponta Delgada Airport
There are services that handle money located in the landside departures area of the airport so make sure to withdraw whatever cash you need before entering airside. 
Reduced mobility and disability services at Ponta Delgada Airport
The airport offers a service called MyWay to travelers with disability and reduced mobility for ease and comfort as they pass through the airport. The service includes skilled professionals and mechanical facilitators as needed and requested.
The assistance has to be pre-booked at least 48 hours before the departing flight, even for arriving travelers, through the airline or the travel agent.
Food and beverages
Travelers have several options of places to eat while either waiting to pass through security control, to board their flight or after they arrive. There is no place within the arrivals airside area, but there are a couple of facilities once through to landside and in the departures area. The airport is small so they are still close and within a short walking distance of a few minutes.
Shops at Ponta Delgada Airport
There is a Duty Free Store offering perfumes, beverages, tobacco, chocolates and candies, handicrafts and gifts, technology, fashion and accessories, watches and jewelry and more located on airside for departing passengers, as well as a few shops before security and a few more on airside.
Arriving passengers have access to the shops on the landside.
Transferring to and from Ponta Delgada Airport
Parking – There are two official ANA parking lots at the airport, simply named P1 and P2. One is for short-term parking and the other for medium and long-term parking. Both are on walking distance from the airport terminal located alongside it with P2 further away than P1 making it slightly cheaper.
It is allowed to park for up to 10 minutes in P1, outside the terminal, to drop off and pick up travelers, but only up to twice in every 24 hours.
Rental Cars – There are numerous car rental companies at Ponta Delgada Airport that have rental car desks are located on landside within the terminal. For returning a rented vehicle, please follow the instructions given by the rental car company.
Shuttles – Between the hours of 07.00 and 00.00 ANC Aerobus offers shuttle transfers to several locations in Ponta Delgada center. The bus costs up to a few € for a one way adult ticket with a reduced price for children under the age of 12 and children under the age of 3 travel for free in the company of an adult. The route departs every 40 minutes to and from the airport and it stops at 21 bus stops during its journey. The stop at the airport is located right outside the terminal.
Taxis – Taxis can be found at the taxi rank outside the Arrivals. The journey to central Ponta Delgada takes around 10 minutes depending on traffic and exact destination, and it costs around 15€.
Transfer to Ponta Delgada City from other Azores islands
Some might like or need to transfer between the island of São Miguel and another of the Azores islands and there are two options of transfer.
Plane – While all islands have an airport or airfield not all islands can be reached directly from all the other islands so a connecting flight might be needed. The schedules are updated and changed regularly and there are often delays or cancellations in the relaxed Azorean way. It is the more expensive of the two options, but it is usually also the quickest, although between some islands the alternative might be faster.
Ferry – There are ferry lines between the different islands, but not all islands have direct routes between them and not all routes run all year round. Some routes run daily and others only once a week and during the summer. The journey can be rough if the weather is rough and lovely if the weather is nice.
It is recommended to make sure there is flexibility in the itinerary when travelling between the different islands because the schedules of flights and ferries are changed infrequently, but fairly often. Besides schedule changes flights or ferries may get delayed or cancelled due to a number of reasons including weather.
Lost and Found
If you have lost something on a plane, please contact the airline directly. If you have lost something at the airport, please contact the airport on the number or the email listed below.
Things to do in Ponta Delgada
There are a number of activities to suit all ages and interests in the region - see a selection of tourist activities in Ponta Delgada, Portugal.
Airport Contacts
Address: João Paulo II Airport, 9500-749 Ponta Delgada, Portugal
General Phone: +351 296 205 400
General Email: pontadelgada.airport@ana.pt
Lost and Found Email: pontadelgada.airport@ana.pt
Lost and Found Phone: +351 296 205 400
Official Website: https://www.aeroportopontadelgada.pt/en/pdl/home
Local Information
Drive on: Right
Electricity: 230V/50Hz
Plug: F
Currency: Euro - €
Services at Ponta Delgada Airport
Useful Information about Ponta Delgada Airport